Measurement of steel cord conveyor belts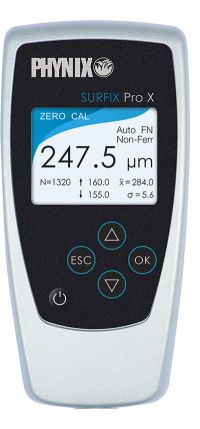 Request a quote
Product description
Application areas
Advantages at a glance
Technical specifications
Scope of delivery
Probes and accessories
During the transport, processing and storage of cargo and bulk material often undesired abrasions on means of transportation, processing facilities and containers occur. To minimize this abrasion or to protect valuable transport goods, abrasion protection linings e.g. made of rubber, plastic (polyethylene, PTFE), polyurethane or polyurea are applied to prevent abrasion of the base material.
Because abrasion protection linings wear off depending on the usage, the thickness of the protective coatings has to be measured on a regular basis. The reliable evaluation of the abrasion is of great importance to take early measures and protect facilities from more severe damages. The common standard procedures are destructive measurement methods, which can result in long facility downtimes and usually have to be performed by external service providers.
To increase the availability and durability of the facility PHYNIX developed the coating thickness gauge Surfix® Pro X-CT with the F30-C measuring probe, which in combination provides non-destructive, easy, fast, precise and with high repeatability coating thickness measurements of rubber or plastic on steel cord conveyor belts. Due to systematic documentation of the measured values and statistical evaluations maintenance operations of the facility can coordinately be performed.
---
Application areas
Mining industry
Sand and gravel extraction
Transport and storage of bulk material
Construction industry
Advantages at a glance
Non-destructive and fast measurements of rubber thickness
No work-intensive splicing or removal of the rubber neccessary
Scan-modes for detection of especially thick or thin spots
Calibration data memory for the application with various types of conveyor belts
Reasonably-priced measurement principle without subsequent costs
Memory and interface for systematic wear recording
Reduction of downtime
Technical specifications gauge
11005 Surfix® Pro X-CT
Measuring principle
Depending on probe; for information see our probe selection
Range
Depending on probe to 30 mm
Accuracy
Depending on probe
Resolution
0,1 µm or <0,2% of value
Display
High-resolution color display
backlight
Calibration method
Factory-, zero-, foil-,two foil-, offset-function: add. or subtract. of a constant value
Statistics
Single and block value statistics, selectable block size
parameters: number of values, average, standard deviation, Minimum, Maximum, Kvar, cp, cpk
Memory
100.000 values
Interface
Bluetooth 4.0
USB 2.0
Operating temperature
0 °C to 60 °C
Surface temperature
-15 °C to 60 °C
Dimensions (gauge)
137 mm x 66 mm x 23 mm
Weight
225 g incl. FN 1.5 probe and batteries
Protection class
IP 52 (protection against dust and dripping water)
Standards
DIN, ISO, ASTM, BS
Warranty
2 years
Technical specifications probe F30-C
11126 probe F30-C
Application
Measurement of rubber thickness on steel cord conveyor belts
Measuring principle
F-mode
(magnetic inductive) on iron/steel
Range
0 – 20 mm
Accuracy
Zero calibration
Foil calibration
±(0,2mm +5%)
±(0,2mm +3%)
Dimensions (probe)
Ø75 mm x 55 mm
Weight
Approx. 400 g
Protection class
IP 52 (protection against dust and dripping water)
Standards
DIN, ISO, ASTM, BS
Warranty
2 years
Scope of delivery
Gauge Surfix® Pro X-CT
Protective rubber cover
Carrying case
2 batteries AA
PHYNIX.connect data transfer software
Manufacturer's certificate
Instruction manual

Important: The gauge is delivered without probe. Please choose one or several probes from our probe selection and order seperately.
Download prospect flyer
A detailed product flyer can be downloaded here: