Surfix® Pro X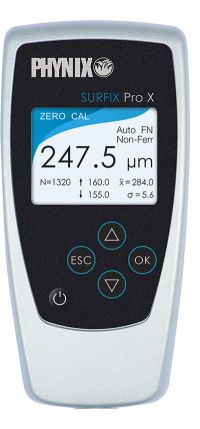 Request a quote
State of the art measurement technology
Our new premium product meets the high requirements of modern coating thickness measurement gauges with its´ many new features.
A brilliant high-resolution color display is the most strinking difference to our previous premium product Surfix® Pro S. It features the use of many different character sets, and therefore substantially increases the number of available languages for user guidance e.g. Chinese. The bright high-contrast display makes for a reliable reading of the measurements from a distance or in darkness.
The platform "Industrie 4.0" demands an improved connection of measurment devices and product controls: Surfix® Pro X meets this demand with Bluetooth 4.0 und USB 2.0 interfaces and realizes a fully connected production environment. For this purpose the capacity of the data storage has been upgraded. It can now store up to 100.000 values including date, time and calibration in files and folders.
Surfix® Pro X offers exchangeable probes and highest precision combined with simple handling in almost every application area.
---
Application areas
Electroplating
Paint shops
Automotive industry
Chemical industry
Aerospace industry
Ship building industry
Tyre industry
Quality management and final inspections
Laboraties and research facilities
Advantages at a glance
High-resolution color display
Innovative and user-friendly measurements
Automatic recognition of the base material
Automatic setting of the required measurement mode
Data storage for up to 100,000 values with name, date and time and up to 1,000 individual calibration
Online-statistics of all common parameters
Data transfer via USB 2.0 und Bluetooth 4.0
Intuative user guidance – multi language menus
Scan-mode for continuous measurements
Technical specifications Surfix® Pro X
Measuring principle
Depending on probe; for information see our probe selection
Range
Depending on probe up to 30 mm
Accuracy
Depending on probe up to
± (0,7 µm + 1 % of measurement)
Resolution
0,1 µm or <0,2% of measurement
Display
High-resolution color display
backlight
Calibration method
Factory-, zero-, foil-, two-foil-calibration
Offset-function: add. or subtract. of a constant value
Statistics
Single and block value, selectable block size
Parameter: n, x¯ , s, Min, Max, Kvar, cp, cpk
Memory
100,000 values
Interface
Bluetooth 4.0
USB 2.0
Operating temperature
0 °C to + 60 °C
Surface temperatur
-15 °C to + 60 °C
to + 150 °C / + 300 °C
(with optional foot)
Dimensions (device)
137 mm x 66 mm x 23 mm
Dimensions (probe)
Depending on probe
Weight
205 g incl. batteries
Protection class
IP 52 (protected against dust and dripping water)
Standards
DIN, ISO, ASTM, BS
Warranty
2 years
Scope of delivery
Gauge Surfix® Pro X
Protective rubber cover
Carrying case
2 batteries AA
PHYNIX.connect data transfer software
Manufacturer's certificate
Instruction manual
Important: Device is delivered without probe. Please choose one or several probes in our
probe selection and order separately.
Accessories
Probes according to PHYNIX delivery program
Measurement support for precision measurements on small parts
Calibration standards
Manufacturer's certificate TYP M DIN 55350
Soft bag
USB cable
High temperature feet for measurments on hot surfaces up to 150°C / 300°C
Download product flyer
A detailed product Flyer can be downloaded here: