Coating thickness gauges
Gauge Overview
Coating thickness measurement is an important issue in many industries – Our product range shows the broad variety of applications. Ranging from high-end measurement systems to pocket devices with one-button handling – every customer finds the ideal device for his individual application at PHYNIX.
---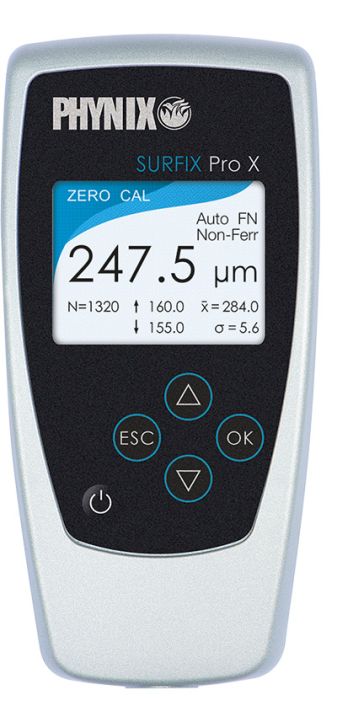 The new premium product Surfix® Pro X features a large high-contrast color display and is apted to make large sets of measurements during production or in the laboratory. Integrated USB and Bluetooth Interfaces make for an easy network Connection
---
The most striking feature of the new PHYNIX Surfix® EX / SX is the brilliant color graphics display. The internal data memory allows the storage of up to 2,000 measured values. A USB connection is used to connect to a PC.
The greatest flexibility is provided by the Surfix® SX, which can be connected to all probes from the PHYNIX probe program. The Surfix® EX gauges with the fixed standard probe are suitable for applications where the measurement task is clearly defined. Without the high-quality plug-in connection the Surfix® EX offers a significant price advantage compared to the Surfix® SX.
---
The gauges Surfix® S/Surfix® Pro S offer, like the Surfix Pro X as well, a large variety of probes, due to the pluggable probe port: standard probes for universal application as well as specialized probes for measurements in holes or on car tires. Data storage, interface and statistics are standard for these gauges.
---
Our bestseller Surfix® E with a fixed standard probe is the go-to device for almost every application. It measures with high accuracy on steel/iron and non-ferrous metals and features data storage, interface and statistics
---
The Pocket-Surfix® X has a similar feature range, but is smaller in size. On the spot measurements without having to abandon accuracy, data storage, USB-interface and statistics. The bright LED backlight enables easy reading of measured values even under difficult conditions. Due to its integrated probe the gauge fits into every pocket.
---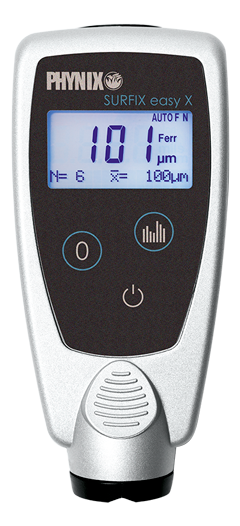 The Surfix®-easy-X coating thickness gauges are suitable for rough on-site use as well as for laboratory measurements. They are user-friendly and the illuminated display makes it easy to read the measured values even in dark environments. The Surfix® easy X I has an integrated probe, while the Surfix® easy X E is equipped with an external, fixed probe. A single-point calibration function ("zeroing") is available for carrying out difficult measurement tasks, with which the desired measurement accuracy can be increased.
---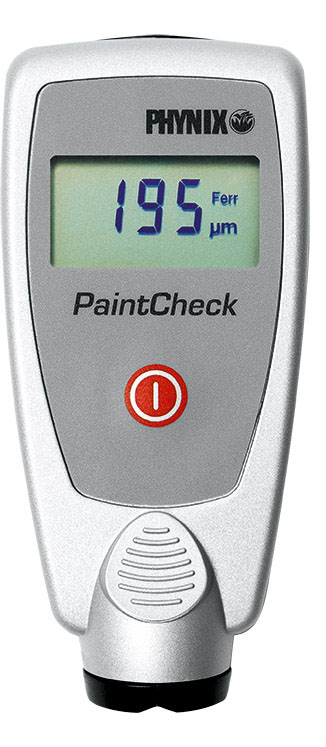 PaintCheck is your entry in coating thickness measurement with high-quality products by PHYNIX. It is ideally suited for vehicle inspectors, paint shops and repair shops. A reasonalbly-priced device featuring one-button handling. Also interesting for oldtimer fans.